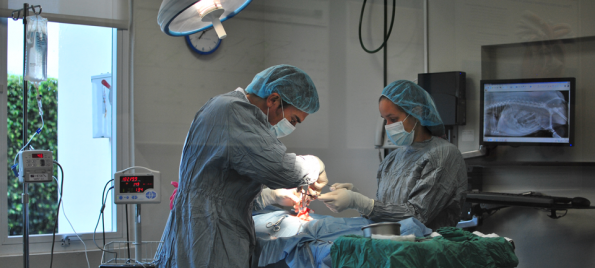 We proudly offer a state of the art surgical suite.  We are equipped, skilled and trained to perform a complete spectrum of soft tissue surgical procedures.
Note: When orthopedic procedures are necessary we evaluate the patient, diagnose, manage pain, immobilize (coaptation/cast/splint), determine the need and usually refer the case to a Board Certified Veterinary Surgeon.
We take anesthesia monitoring seriously.  Before every anesthesia we performed a comprehensive physical examination.  Then, perform the recommended pre-anesthesia blood examinations, electrocardiogram, and radiographs. Every patient is evaluated and treated individually.  Our anesthesia standard of care includes an intravenous catheter in every patient (mandatory). We monitor temperature, respiration, blood oxygenation, heart rate, blood pressure, and fluid administration during every general anesthesia.  During recuperation our patients are always held by one of our trained veterinary technicians and owners are called immediately after to give them the peace of mind that their beloved family member has recuperated as expected.
We take pain management seriously.  We strongly believe in Pre-Emptive pain management (managing the pain before it starts).  We are trained and we have the inventory to manage pain with a multimodal approach.  Our patient's comfort is one of our highest priorities.