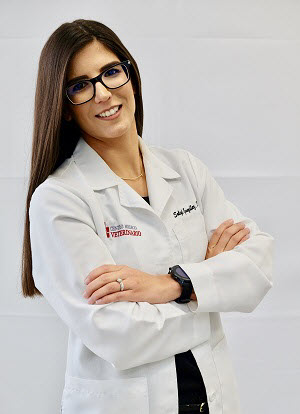 Dr. Soleyl Gonzalez, our newest veterinarian.
Dr. Gonzalez has always had an innate passion to help animals and this is what primarily drove her into becoming a small animal doctor.  The early stages of her career include working as a volunteer in different shelters during summer breaks and her first job as a teenager was cleaning dog runs and veterinary hospital tables.  Dr. Gonzalez attended the University of Puerto Rico at Mayaguez, where she majored in Animal Science. Upon graduation Dr. Gonzalez applied to veterinary school and in the meantime began to work as a veterinary technician at a small animal practice in the area.
Dr.Gonzalez eventually attended Ross University School of Veterinary Medicine (RUSVM), an accredited school in the Caribbean.  She had the opportunity to live in Gainesville, Florida to complete her clinical year of veterinary school at the University of Florida (UF).
After 4 years away from home, her friends and family, she was eager to come back to Puerto Rico and serve her community as a doctor in veterinary medicine. She enjoys all aspects of veterinary medicine but has a special interest in dermatology, dentistry, and integrative medicine. Dr. Gonzalez is a member of the 'American Veterinary Medical Association" (AVMA) and "Colegio de Medicos Veterinarios de Puerto Rico".
Dr. Gonzalez strives to help all animals in need and enjoy challenging cases on a daily basis. She also enjoys training before work, outdoor runs, competitive cycling and swimming, saltwater fishing, a good book, or just to relax by the beached soaking up some sun. When she is not at Centro Medico Veterinario you can find her spending time with her husband, family, and her 4-legged son Mr. Peto.