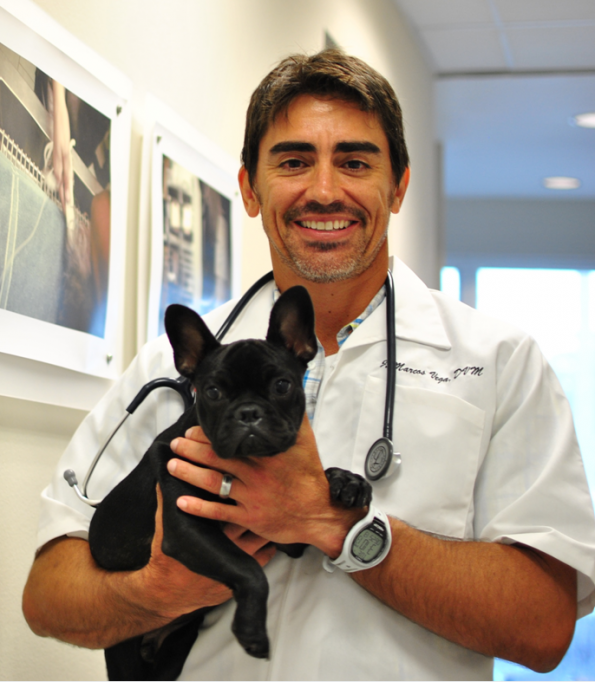 J. Marcos Vega is founder and owner of Centro Medico Veterinario de Guaynabo; now celebrating 9 years of excellence in small animal healthcare. Dr. Vega is a 1994 graduate of Iowa State University College of Veterinary Medicine. He started his Veterinary Career working as a Captain in the United States Army Veterinary Corps.  He was Chief Veterinary Officer at Keesler Air Force Base (1994-1996) and Chief Veterinary Officer at Ft. Buchanan and Roosevelt Roads Naval Air Station (1996-2000).  He honorably separated from the US ARMY in the year 2000 because of his passion to practice veterinary medicine, his desire to practice in the Island of Puerto Rico and to be close to his family.
Before founding Centro Medico Veterinario, Dr. Vega founded and still co-owns Veterinaria 24/7, a 24 hour Emergency Clinic in the San Juan area.  In the year 2000, he founded Clinica Veterinaria Alejandrino (CVA).  CVA was eventually sold in the year 2007.
Dr. Vega is an experienced practitioner that has gained a broad range of expertise through his 22 years of experience.  Among his areas of interest include Dermatology, Dentistry, Internal Medicine, Soft tissue surgery and Client Communication and Education.  He is a member of the American Society of Veterinary Dermatology, Veterinary Dental Forum, American Veterinary Medical Association, American Animal Hospital Association and "Colegio de Medicos Veterinarios de Puerto Rico".
Dr. Vega is passionate about Veterinary Medicine and continuously strives to practice the most advance veterinary medicine with a gentle touch.  He continuously seeks gaining expertise by attending numerous conferences in anesthesia, dermatology, dentistry, ophthalmology and internal medicine.  He is a member of the Veterinary Information Network (VIN) and self proclaim VIN "nerd".  He is passionate about the human animal bond and is committed to improve and maintain the health of his patients.
Dr. Vega resides in Guaynabo with his lovely wife Gloria his daughters Paola and Daniela, and two dogs; a Bishon "Roxie" and a Golden-Labrador "Sol" (his training partner).
Dr Vega is a triathlete.  When not at the Clinic you are likely to find Dr Vega riding his bike, swimming in the ocean with "Sol" or running in the San Juan or Guaynabo area.